New Book Release
---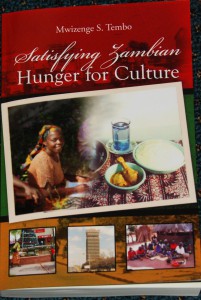 Mwizenge S. Tembo,
Satisfying Zambian Hunger for Culture: Social Change in the Global World
,
Bloomington, IN: Xlibris Corporation, 2012, pp. 385, $19.99. K102,000.00, Soft Cover, $29.99  K153,000.00 Hard Cover.  ISBN 978-1-47970-208-4, available from
Xlibris
,
Barnes and Noble
or
Amazon
. It also can be ordered through bookstores or online. 
Read more about this book here. 
The book: "Satisfying Zambian Hunger for Culture" has 3 other contributors: Ms. Ruth Mugala in Zambia, Ms. Claire Miti in the United Kingdom, and Mr. James Mwape in the United States. We are very thankful that His Excellency the First President of Zambia, Dr. Kenneth Kaunda, was gracious enough to give his blessings to the book by writing the foreword.
What is the book about? We Zambians are experiencing tremendous social change, cultural tensions, and sometimes confusion during the last 48 years since their political independence in 1964. Many people migrated into the cities and professionals immigrated and scattered abroad in a growing Diaspora. Many non-Zambians have visited and have fallen in love with Zambia. Many Zambians have intermarried among the 72 tribes and have married partners from abroad from different races and ethnic groups. The diversity of the Zambian culture has created a cultural crisis, a void or vacuum, tension, ambivalence, and turmoil among most Zambians and especially their younger children. The disorientation and cultural confusion that started during British colonialism in the late 1890s has been worsened due to the demands of globalization and rapid social change.
What are Zambian culture and technology in the society of 13 million? How did we as a nation come to identify ourselves as Zambians form the 72 separate tribes?
The book has 17 chapters which include how girls and women, boys and men were brought up in traditional Zambia and the influence of urbanization. How Zambians identify themselves and naming customs, parenting, kinship, nshima and other traditional foods and meals including various relishes, and eating customs.  There are discussions of Zambian traditional dances, traditional medicine, causes of disease, illness and healing, the role of religion, Christianity, witchcraft and spirituality. How did multiparty democracy develop? Some traditional philosophical ideas are discussed in relation to contemporary life.
All of these and other  topics are explored with discussions on how Zambians and anyone for that matter can lead better lives today using some of the traditional culture and technology and combining them with what is positive from modern influences.  There are some very clear recommendations on how we can strengthen our lives today. These are the issues that the author and the contributors hope Zambians and others will adopt in their lives.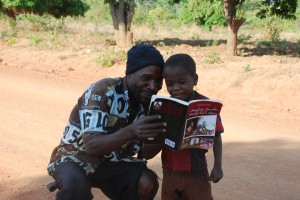 The book: "Satisfying Zambian Hunger for Culture" is not intended to simply sit on the shelf after reading it but to be both educational and provide broad everyday guidelines to all readers in improving the lives of adults, children, and families of Zambians and all the people who have a deep interest in Zambian culture and life. The book is meant to encourage Zambians inside and outside the country to hold family and community contemplative conversations about Zambian culture and technology.
For example raising Zambians from girls to women might involve the ChiNamwali or Chisungu puberty rite of passage ceremony.  The raising of boys to men which might include the Zambian mukanda  rite of passage ritual of puberty for boys in rural, urban areas in Zambia as well as among Zambian communities in the diaspora. Many older Zambian men might be asked to get involved and volunteer to be bashibukombe or mentors for boys in men's groups all over Zambia and abroad. The book also encourages Zambians to get involved in traditional dances and to try eating some of the neglected but quiet delicious and nutritious traditional Zambian relishes with nshima. There are many other recommendations that will interest most Zambians and millions of other people that might have an interest in Zambian culture. You can buy this historic book now or ask your nearest bookstore to order it . It is a book you can buy for yourself and also proudly give to anyone as a gift or tell other people about.
ABOUT AUTHOR: Mwizenge S. Tembo obtained his B.A in Sociology and Psychology at University of Zambia  in 1976, M.A , Ph. D. at Michigan State University in Sociology in 1987. He was a Lecturer and Research Fellow at the Institute of African Studies of the University of Zambia from 1977 to 1990. During this period he conducted extensive research and field work in rural Zambia particularly in the Eastern and Southern Provinces of the country. Dr. Mwizenge S. Tembo is Professor of Sociology who has taught at Bridgewater College in Virginia in the United States for twenty years.
Dr. Tembo has authored 4 books: Titbits for the Curious (1989), Legends of Africa (1996), The Bridge (Novel) (2005), Zambian Traditional Names (2006). He is spearheading the building of  a Zambia Knowledge Bank Libraries: Nkhanga Branch Village Library in Lundazi District in his native country of Zambia in Southern Africa. He is a weekly columnist for the Daily Newsleader Newspaper of Staunton in Virginia. He is a frequent column contributor to the Daily News-Record of Harrisonburg in Virginia. He was also a frequent contributor to the Sunday Times of Zambia in the 1980s. He has published at least 100 newspaper columns. He is a freelance photographer who has sold many of his works. For more details: www.hungerfoculture.com
Dr. Tembo has also published at least 15 scholarly articles, 21 book reviews, and 10 journalistic articles.
Mwizenge S. Tembo, Ph. D.
Emeritus Professor of Sociology
Cell 540-421-9972
e-mail: [email protected]