Isabella Mukanda, Unveiling Greatness: Chronicles of Inspiring Lives: James Muma Mwape – A Zambian's Global Odyssey, Foreword by Dr. Mwizenge S. Tembo, 66 pages, Paperback, K168.00 ($7.99)
BOOK REVIEW
by
Mwizenge S. Tembo, Ph. D
Emeritus Professor of Sociology
When any more of the 7 billion human beings or 19 million Zambians are born today, we belong to a specific gender, family, society, country, and numerous other circumstances that define our identity. But wherever we live, our life experiences are either long or sometimes short. What happened during the short or long-life span of one man is the subject of this book. It describes the life of a Zambian James Muma Mwape. Why is this book important? James Mwape was never a prominent famous politician, or someone who was the President of a country, leader of a major organization like the United Nations, political party, a major bank or a university, or a Minister in the Zambian government. But he overcame incredible challenges and obstacles in his 60 years of life and became successful. If his experiences are very common, what made him unique? What was compelling about his life?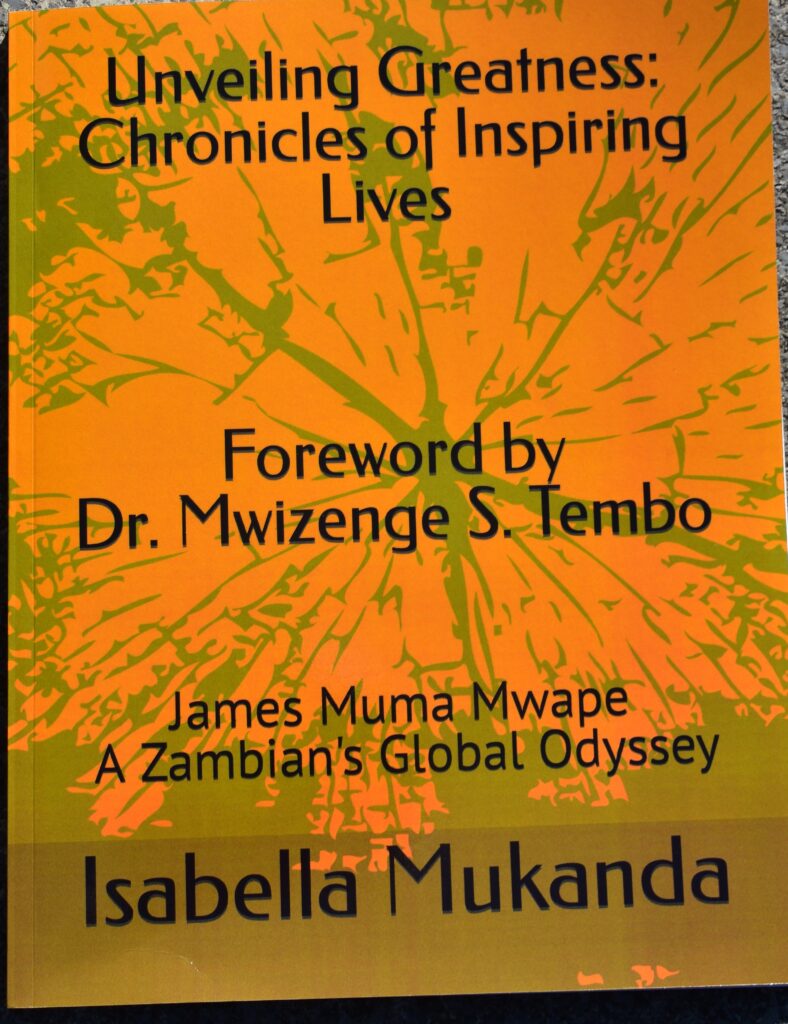 James Muma Mwape was born in Luapula in the Northern Province of Zambia. A single mother struggled to raise him in Zambia while fighting poverty. He grew up in Mufulira. When James Mwape suddenly passed away peacefully in his sleep in his New Jersey home in the United States on April 27 2023, this sent shock waves particularly in the Zambian African community. This man known for his humility had touched so many lives and played such a prominent role in the Zambian and other communities. Many people including Zambians, his acquaintances, including this book reviewer assumed they knew James Mwape. But this was not the case.
What happened is that author Isabella Mukanda had conducted a very candid personal interview with James Mwape ten years before his sudden and untimely death. Unbeknownst to Mukanda, that interview revealed so many personal deeper aspects of James Mwape's life after his death; details that were not previously known. The details of his life make him an inspirational figure after his death. He lived in several countries including China and Poland during his hard and difficult quest for a better life. He overcame obstacle after obstacle such that the reader is left wondering how he survived to be such a strong kind person that was full of passion and kindness. Where did the motivation come from to do all the things he did in life?
He raised a family with his partner Ruth, worked as a science teacher, he helped so many people including creating and hosting the prominent annual Mwape Peer Awards. He always strove to gain a better education in spite of his difficult circumstances. He personally experienced so much suffering, struggle, pain, and anguish. He wanted to help people, humanity and especially his native country of Zambia so much. The reader might wonder where he drew his inspiration from.
Some would say the inspiration was from his deep religious faith in Christianity. His life was both a mystery and had uncomfortable complexity. The reader is left asking and wondering how James Mwape drew so much good from his pain and suffering? He was never a bitter person.
What makes the book a compelling read is that it is short and the interview was very short and as James gave to the point responses. The reader is left making their own conclusions about how he overcame so many challenging and difficult circumstances. Was it his mother, the country of Zambia he grew up in, the random people that he met and helped him in his life? To the author's credit, Isabella Mukanda never editorialized James Mwape's life. Mukanda has two other unrelated short stories at the end of the book: "Tabernacles of Evil," and "Breaking the spell: A True story about one family's struggle with mental illness".
I would strongly recommend this inspirational short book, as I do in the foreword, to all readers from all backgrounds; circumstances, social classes, race, age, gender, history, and countries of origin. This is not a book about the suffering and triumph of just a poor Zambian, or African. He could have been an Asian, European, or person from numerous origins and identities, It is a book of life and how one James Mwape overcame the existential problems of obstacles, pain, and suffering in life. One can see the suffering in the eyes and images of millions of migrants to day on the American Southern border with Mexico, poor migrants floating on rickety boats trying to cross the Mediterranean Sea to Europe in North Africa, and migrants in many parts of Africa, South America, Europe, Australia and many parts of the world. This book will both expose you to suffering and how some humans overcome some of that suffering to achieve a form of triumph in life.