A Vacation Destination –
Recently, I had a few days off from work. Instead of spending them in my local club elbowing people to get that perpetually scarce drink, or dozing under the tree shade in my hammock in my boring back yard, I went with my family to the Luangwa Game Park for the first time.
The flight from Lusaka International Airport to Mfuwe Airstrip in Luangwa was a short 45 minutes in the air conditioned comfort of a Zambia Airways Boeing 737 jet. Once in the air, my children, 3 and 7 years old, thought they could see paths on the ground. I told them those were dry river beds in dry savannah climate.
When we disembarked, we were rudely greeted by waves of October Luangwa Valley heat of probably 105 degree Fareheit. We could smell the dry hot air. The tarmac was so hot one could have easily fried an egg on it. There was tremendous excitement at the airport arrival lounge. Over 15 Safari open pickups were waiting to take all the passengers to the nine camps and lodges in the game park. Our destination was Mfuwe lodge. After an hour's drive through villages, schools, and some shops, we were at the Luangwa Bridge.
Our driver and guide announced that we were now entering the game park. My children had looked forward to this trip. The last three days at home,  my wife and I could not eat properly as the young one kept asking when we would be flying to the zoo. I kept correcting him that it was a game park. As we crossed the bridge, I now asked them to get ready and tell me the first animal they saw. Before long, there were screams;
"Daddy, there is a monkey! monkeys! Giraffes!! look a small cow with birds on its back!!!" Before we arrived at the lodge, we had also seen several gorgeous  impalas and two lone buffaloes.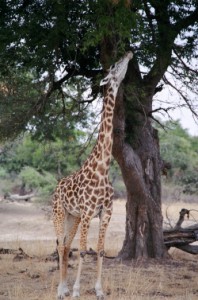 The Mfuwe lodge is beautiful. It overlooks a lagoon where you can watch thirsty animals drink water while you are relaxed drinking a cup of tea, mango juice, a good cold one, chatting with new friends, or just doing nothing. Within the lodge, there are monkeys everywhere which provide their own side entertainment.
The rooms at the lodge are spacious. For those three dream days, it was nice not to worry about cooking, shopping, work, driving in congested traffic, or waiting for a mini bus. The food was rich and wonderful. For those skinny people it is a wonderful chance to put on a little more weight. For example, I rarely have a chance to eat eggs, bacon, baked beans, cereal, milk, toasted break all at once for breakfast at my house. Because between my wife going to work, and I taking the kids to school before seven a.m, we do not have the time. Besides we could not afford it.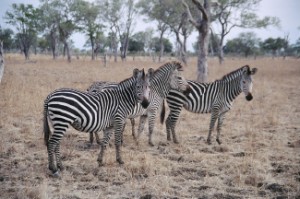 Every day, there was early morning game viewing at six a.m and afternoons at 4.00 pm. There was also night game viewing with a search light. The game was simply mesmerizing. It was nothing compared to what you see on TV, post cards, or the Zoo. You have to see it with your own eyes to believe it. We saw many elephants, giraffes, lions, zebras, and hundreds of hippos, impalas, buffaloes. We made friends with other couples at the lodge swimming pool as our children excitedly swam in the lodge swimming pool with their newly found friends.
The most memorable and exciting incident though happened during the last night. After the night game viewing, there was a marvelous Bar-B-Que dinner outside the lodge dining room. We had made friends with Indians fro India, Zambians, coloreds or people of mixed race, and Europeans. As newly found friends, we all ate and drank merrily exchanging interesting, and in some cases somewhat sugared anecdotes, about the different animals we had seen during our game safaris.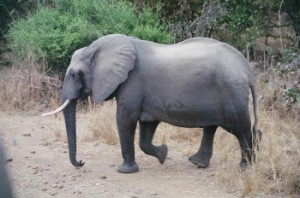 At 10 p.m, some people went to bed. The younger children, including ours were asleep in the rooms. My wife, I and another couple meanwhile decided to drink our last one for the night. A few of the older children were still playing. Then we stopped conversation as we heard snapping twigs nearby just beyond the edge of lights. About less than 40 yards from the edge of the lights and lagoon water, there was an elephant. It was feeding on the tree shrubs and blossoms on the Nchenja wild fruit tree. Someone shone a flash light on it. The elephant got excited  as children screamed. The elephant charged towards us for a few yards, raising its trunk, and flapping its ears and stopped. There was pure excitement. We didn't know whether to run into the safety of the toilets, to our rooms or watch what the huge elephant was going  to do next.
Meanwhile, the Manager of the lodge was the only one who was seated and as cool as a cucumber. He told everyone to keep quiet and calm down. The elephant was making a mock charge to test us. Sure enough, the elephant calmed down and resumed its meal. After a while, it walked away towards another part of the lodge. What we didn't know was that 10 more elephants were lurking in the dark behind the lodge dining room.
That same night, my wife woke me up at 2 a.m and whispered that she could hear noises outside our room. When I nervously peeked behind the curtain, literally in front of my nose and almost against the open window, an elephant was eating the fresh grass. Its massive belly was blocking the window and its back was nearly touching the edge of the roof. Like a frightened child, I slowly and nervously pulled the bed covers over my head. From under covers, I whispered to my wife to remain very quiet. I prayed that one of the children right there and then did not wake up with a loud cry that he wanted to go to the toilet. The elephant was not going to like it. After a while it walked away.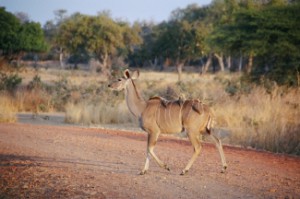 The following morning, everybody had a story about those elephants that were apparently just grazing in their territory and not out to harm anyone. But the excitement they provided was incredible. Next time you are on vacation, go with your family to the game park. It is a memorable and magnificent experience.
****A version of this article was published in the Sunday Times of Zambia, 26th October, 1988.